8 Must-have Joligrace Cosmetic organizers!
Skincare products and cosmetics are our magic to be beautiful, so what should be used to contain and protect them?
The answer is Joligrace cosmetic organizers!
#1 PU Leather Marble Style Cosmetic Bag
The cosmetic bag is a good helper in our daily life, she can help us clean up all the mess. Accommodate various skincare products, cosmetics, nail tools, etc.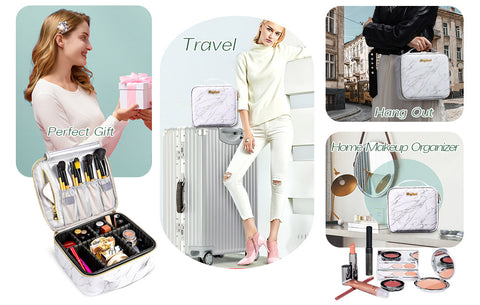 This marble cosmetic bag is made of PU leather differ from other Nylon Fabric, which is waterproof, scratch-resistant and wear-resistant. You could diy the spare of makeup bag with dividers.It must be your best partner for home organizer or for travel.
2# Joligrace Travel Makeup Handbag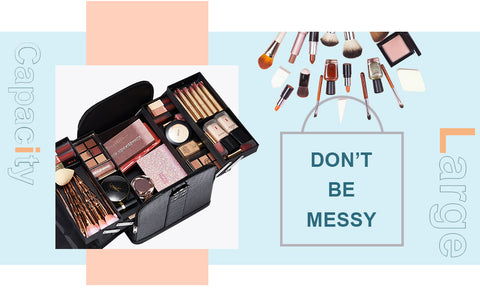 This elegant travel makeup handbag with high quality material for waterproof crocodile PU leather.
Extra large storage space is ideal for organising the cosmetics such as: foundation, eye-shadows, lipsticks, mascaras, eyeliners, powders, nail polishes, hairdressing things. It is also suitable for storing crafts, chargers, USB cables, fishing tools or other electronic accessories.
Convenient for outgoing with the comfortable handle and shoulder strap.
3# Cute Love Pattern Makeup Case
Compared with cosmetic bags, cosmetic cases have a stronger shell to protect our cosmetics. And the unique structural design allows us to store makeup tools better, improve the efficiency of skincare and makeup, and do not have to worry about finding it or being messy.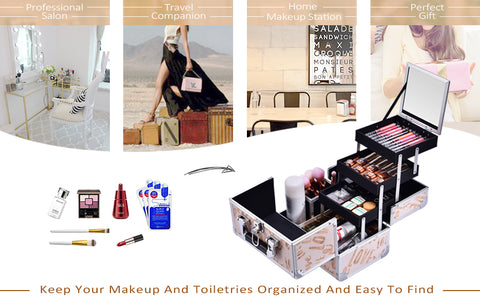 The cute "LOVE" pattern makeup case is a nice choice for your lover. Looks small but hold a lot for its 3 tiers and large bottom.What is special,the brushes hold could protect all kinds of brushes.Makeup everywhere and everywhen if you want.
4# Professional Large Black Star Makeup Case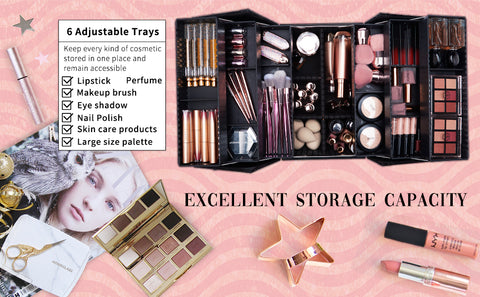 Makeup artists must have this professional makeup case.Hold everything for 6 adjustable trays and a deep large bottom.Convenient carry to your destination with its handle or shoulder strap.Sturdy for Building with durable aluminum frame and reinforced corners.
5# Rose-Gold Diamond Makeup Trolley
The updated makeup case-cosmetic trolley is also a good helper for makeup artists. Accommodating more and larger products, and sliding wheels provide countless conveniences for any of your destinations.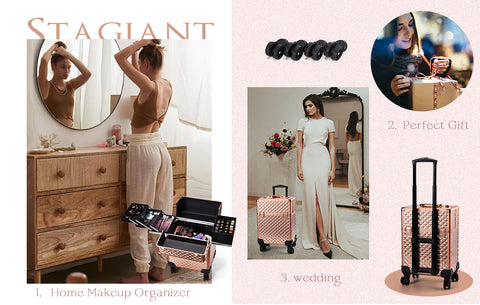 The makeup trolley is so gorgeous because the rose-gold color.Multi-function sliding trays and large capacity good for organizer anything.Detachable 360°swivel wheels Swivel Wheels provide great convenient to someone who always work everywhere.
6# 4 in 1 Large Capacity Trolley Makeup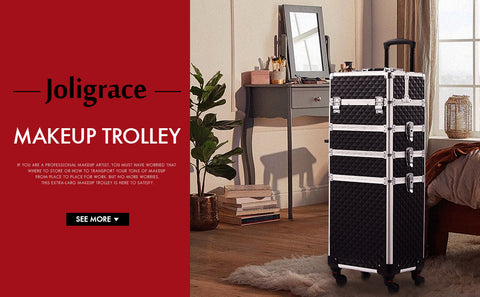 Unique black diamond appearance rolling makeup case.4-in-1 makeup trolley consists of 4 detachable compartments which can be freely combined as your demands.Ideal for taking exactly what you need, anywhere, at any time.
7#Acrylic Rotating Makeup Organizer
3 Tiers Multiple Storage
360° Rotating Makeup Organizer
Smooth & Noice-Free Rotation
8# 45/60/180 Slots Drawer Divider
Fits Ikea Alex 5 Drawer Unit
For Eyeshadows/Blushes/Highlighters/Gels/Powders/Creams
---